Floats

We manufacture fuel floats and tank floats with our advanced technological skills. We have maintained a high market share for domestic major automobile manufacturers.
Features
Floats are closed pore foam devices composed of NBR rubber and phenol resin. They are excellent in terms of oil resistance and dimensional stability.

NBR: Ebonite containing a large amount of cross-linking agent (sulfur).*

Phenol resin: Thermosetting resin

Hard foams are formed.

*Ebonite in which most of the rubber reaction points have reacted

with sulfur.

It is an aggregate of closed-pore foams filled with cracked gases generated from float containing foaming agents.

Its structure is just like a big balloon made of a collection of small balls.

NBR is a representative oil resistant (anti non-polar solvent) synthetic rubber. Therefore, it shows excellent resistance to non-polar media such as gasoline, light oil and kerosene.

Cross section of float (closed pores)
Applications
- Fuel tank level gauges (automobiles, motorcycles)
- Carburetors (Motorcycles, agricultural machine engines)
- Engine oil level gauges
- Pneumatic auxiliary components (auto drain)
- Kerosene stove level gauges
- Other types of equipment that need level detection sensors
Manufacturing method
We currently manufacture floats with the following manufacturing method.
Type
Molding Method
Composition (raw material)
Closed pore foam
High pressure double-stage foaming
NBR/Phenol

Single-stage foaming

Urethane

Resin injection foaming

PP/Nylon

Hollow body

Molded item joint

POM/PP, etc

Blow molding

PP・PE
With our float manufacturing method, we use high-pressure and double-stage foaming where vulcanization and foaming are processed in the two stages of vulcanization: primary vulcanization and secondary vulcanization.
We have many years of history working in the automobile industry. Our floats are the major industrial floats of the time.
The features of two-stage foaming are described as follows.
The floats have almost perfect closed pores. Therefore, they can keep floating without allowing liquid to get inside even when they have a damaged appearance.
Two-stage foaming enables productization of highly foamed products. (A minimum specific gravity of about 0.15 is available.) However, products with a low specific gravity show a lower performance in terms of oil resistance, etc.
Subsequent processes such as cutting, drilling and bonding are easy.
What is a tank float?
A tank float is part of a device that measures the fuel level based on the up and down movements of the liquid level.
They need to be excellent in terms of oil resistance and durability because they are used in fuels (gasoline, light oil, etc.)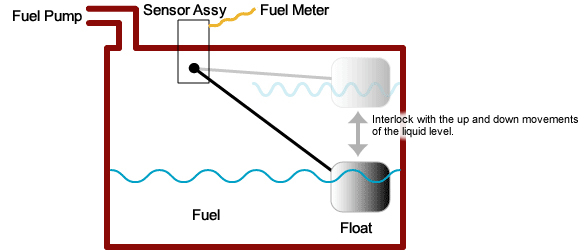 History of floats
| | |
| --- | --- |
| (1) | Floats used to be made of natural materials such as cork and wood. |
| | |
| --- | --- |
| Problem: | Problem: Low performance (shape, weight, oil resistance) |
| | |
| --- | --- |
| (2) | Metallic hollow objects (hollow objects made from welded and sealed processed metallic shells) |
Problem:

Problems: Large variation in the strength of the welded and joined sections.

Peeling of joined sections due to impact

Irregular shaped molded products and small and lightweight products cannot be manufactured.
| | |
| --- | --- |
| (3) | Conversion to high-polymer materials (rubber, plastic) |
Naigai Rubber Industry Co., Ltd. started producing floats for measuring the level of oil in tanks in oil carriers around 1955. In 1964, we started producing floats for gasoline engine carburetors and fuel gauges, and we are still producing them now.